Hi I am Debbie Valentine with VSM. In this property management minute, I want to talk to you about the lease break!
If we have a good tenant and they were screened properly, then hopefully we have a tenant who cares about their credit score and future rental history. With that said LIFE happens:
Job loss
Divorce
Unexpected job transfer
These curve balls can put a tenant in a position where they can no longer pay rent.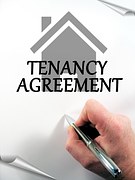 Your lease agreement should clearly spell out what happens if a tenant can't fulfill the lease term. Be sure they understand the consequences of breaking the lease prior to signing.
Here are some options:
In the lease add a lease break clause such as:
"If you need to break your lease for any reason you can buy out by paying an amount equal to 2 months up front and the current month you are still in the property". The security deposit cannot be used toward rent; it is specifically for potential damage and can only be applied after the tenant vacates.
Another option:
Tenant allows you to show the home and a qualified tenant signs a lease. This may be idealistic, but it can happen! The current tenant pays till end of the month and boom the new tenant moves in after any repairs and clean up.
If the tenant cannot pay the rent, then you can follow the standard course with a 5-day notice as well as consulting your attorney. Please note I am not an attorney and cannot offer legal advice but I can assist with general questions.
As a Phoenix property management company, we take many courses of continuing education and attend conferences that relate to our field, and with our experience in management we have seen a few roadblocks that we all hope to avoid.
If you have any questions we can assist with, please contact us at VSM, our professional team is ready to help!
Debbie Valentine Realtor/Owner